Outlaw Mailer has just about everything an Internet Marketer could need in a Viral Safelist Mailer. Earn up to 50% Commissions!
What makes our Safelist The Best?

When you join a free safelist, you get the right to post an ad every so often, perhaps once a day. But other members have the same right - there is absolutely no incentive whatsoever for them to ever read your safelist ads!
Outlaw Mailer runs off of credits - you must have credits to post your ad to our list. And the best way to get tons of free Outlaw Mailer credits is to read the emails from other members. It's a win-win situation: you get your ad read by thousands of other members, and those other members earn free credits for reading it!.
Drive visitors to your website in just seconds
Credit(Point) Based Mailer: With the credit based mailer you can email your ads to the safelist up to 2 times a day as long as you have credits left. One credit = one person you can mail to. Earn credits for reading mail and for referring others. You can choose the amount of credits you use. This is a really good feature because it allows you to save your credits and use them whenever you want to.


Earn Money For Referring Members

Our affiliate program is an amazing way to earn money for referring other members to our safelist. All Referral Commissions are paid out using BitCoin, Skrill, Venmo, Zelle, ORU (GIZMOH), Gpay, and more!
Just how much JUSTICE do you want to get for your Internet Traffic? Membership Upgrades: REGULATOR, SHERIFF, TEXAS RANGER, U.S. MARSHALL
OVER 250 Traffic Sites In Our FREE Referral Builder!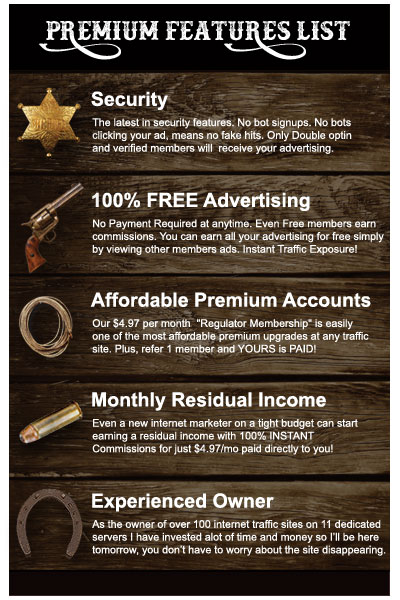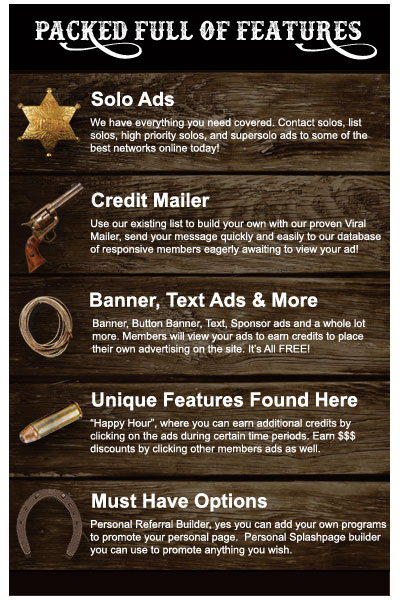 In Just A Few Moments You'll Gain Access To Our Growing List Of Responsive Members
There will be NO Lynching TODAY!
Site Statement and Disclosure: This Site is NOT an MLM, Pyramid Scheme, or Get-Rich-Quick program. We do not require you to pay any fees ever to join and participate in our site. We do not require you to have a website or sell any product to use our service. We do not require you to refer anyone to our site to use our service. You will not get rich by using our program. We are an internet advertising program.