Outlaw Mailer has just about everything an Internet Marketer could need in a Viral Safelist Mailer. What makes us the "Outlaw" of Viral Safelist Mailers, is you don't need to spend $97-$297 to receive 100% INSTANT Commissions. While it's free to join, anyone can afford $4.97/mo. for our "Regulator Membership". Even a new internet marketer on a tight budget can start earning a residual income with 100% INSTANT Commissions for just $4.97/mo. Refer 2 that upgrade and - YOU'RE MAKING A MONTHLY RESIDUAL PROFIT!
Can't afford a lifetime upgrade? Take advantage of out currently running FIRESALE. Lock in an Annual Upgrade for one of our Top 3 levels by taking advantage of the curent sale. But don't delay, with every purchase the price goes up 10 cents. Lock in your price now and that remains your annual fee year after year.
Just how much JUSTICE do you want to get for your Internet Traffic? Membership Upgrades: REGULATOR, SHERIFF, TEXAS RANGER, U.S. MARSHALL
OVER 250 Traffic Sites In Our FREE Referral Builder!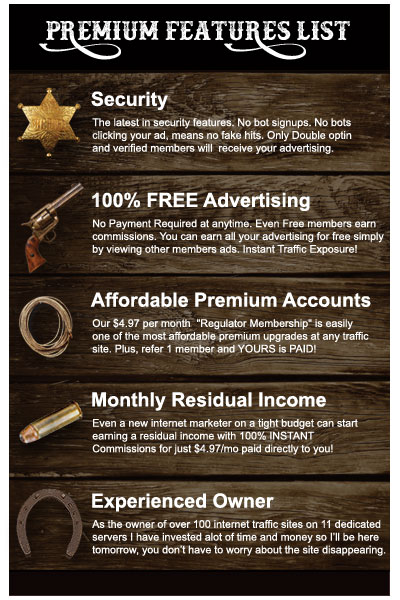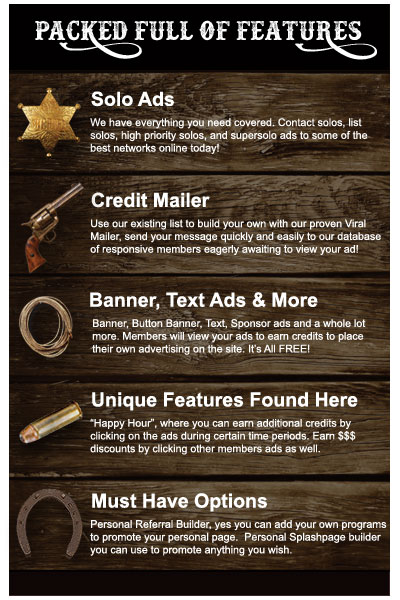 In Just A Few Moments You'll Gain Access To Our Growing List Of Responsive Members
Outlaw Mailer is the FIRST Viral Mailer Safelist to introduce 100% INSTANT Commissions with a Membership as low as $4.97/mo!
Many Viral Mailer Safelists have attempted to come out with 100% Commissions for as low as $10, but not 100% INSTANT Commissions paid directly to your account.
Once those Site Admins figured out they were paying the transaction fees while still paying out 100% in commissions, their sites soon disappeared. Leaving affiliates HANGING without any commissions.
Don't be fooled by "Carpet Baggers" offering 100% Commissions. Make sure their site offers 100% INSTANT Commissions! Otherwise you'll be saying, "Get the rope!"
There will be NO Lynching TODAY!
Site Statement and Disclosure: This Site is NOT an MLM, Pyramid Scheme, or Get-Rich-Quick program. We do not require you to pay any fees ever to join and participate in our site. We do not require you to have a website or sell any product to use our service. We do not require you to refer anyone to our site to use our service. You will not get rich by using our program. We are an internet advertising program.